Maintenance-of-Way Boarding Cars
We have been serving the railroad industry for over 30 years manufacturing maintenance-of-way boarding cars for railroad and railroad maintenance company customers in North America and abroad.
With thousands of miles of track in remote locations, lodging and restaurants are not always easily accessible for the work crews maintaining the track which is where we come in. Don't waste any of your limited track time on travel to and from the job site, our modern boarding cars allow the crew to stay much closer greatly reducing travel time.
We know the demands placed on maintenance-of-way work crews and design our boarding cars with them in mind providing a home away from home when the workday is over. And, unlike the inconvenience of a hotel, work crews don't have to go through the hassle of taking all of their belongings home with them every week.
Don't be misled by our longstanding history of manufacturing boarding cars, these are not the boarding cars of the past. They are modern-day, next-generation living quarters for crews of all sizes that our expert designers and craftsmen design-build completely custom to meet the exact specifications and unique requirements for your production gangs.
Maintenance-of-Way railcar options for custom fleet configurations include:
Sleeper cars with individual sleeping quarters
Service cars with individual bathroom & shower facilities
Laundry facilities
Full-service industrial kitchen cars
Servery cars
Dining room cars
Recreation cars
Gym cars
Office & conference room cars
Supply/provisions cars
Power generation cars
Water cars
And more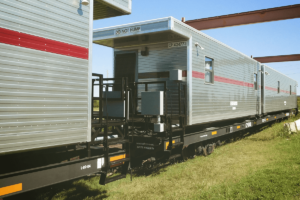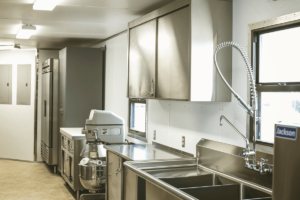 See how we can help you save time and money, allowing your work crews to be more efficient and effective than ever before. The men and women on your production gang work hard, give them the living space they need for quality downtime so they can continue providing the best work possible. Contact us today to schedule a free consultation with our design team.
Find Out More About Our Emergency Response Solutions for the Rail Industry